We are always thankful when we see the vision of Living Bread Ministries being lived out in real-life scenarios.  Recently, we learned about a family in the Torres community in Brazil where we have a church.  Pastor Artênio and his wife Lú met a family who lives in a home patched together with various materials (which is unfortunately very normal for the communities where we serve).  Within this family, there are two children living with handicaps.  Because of government programs that prevent more than one disabled child in a family from getting assistance, one of the children was adopted by her grandmother.  In order to protect the child from insect bites (to which she is severely allergic), she and her grandmother sleep in a tent inside their home.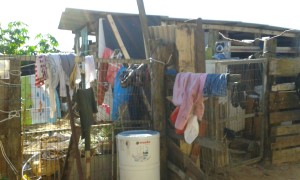 When first approached by Artêntio and Lú who offered support and wanted to pray with them, this family was resistant.  They had been offered help by "churches" before that never followed through with their promises and ultimately took advantage of their situation.  However, Artênio and Lú continued to pray for them and offer assistance.  Finally, they were welcomed into the family's home to deliver food kits and other basic materials.  They even asked to be prayed over.
 Thank you for praying with us for this family and others who are resistant to help, for Pastor Artênio and Lú, and for our other pastors as they serve their communities in similar ways.  Please pray for Living Bread to have the resources necessary to continue ministering to those in need.
You can read about this family and other ministry opportunities our churches in Brazil and Thailand have in our Fall 2015 Newsletter!
To support the ministry of Living Bread, you can donate here.