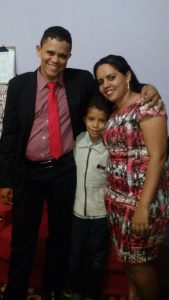 Renting a garage and borrowing chairs from a local business, on November 26th Daniel Soares held our first service in the Cabrobó community. This new church plant is located in the state of Pernambuco, in the Northeastern part of Brazil, one of the poorest parts of the country. In this area many people are still living in mud-walled huts and lack basic necessities. Daniel feels called to serve those in desperate conditions because he has experienced how knowing Christ has transformed his own life. Ten people from the community were in attendance for the first service. Daniel is currently reaching out to local businesses to collect funds to put together food kits. These care packages will be delivered by the church to members of their community on December 25th.
Daniel has also been ministering across the river in Ibó, with a flourishing congregation of ten members with 25-30 people in attendance for service on Sundays. We're excited to have Daniel, his wife, and their two children joining our Living Bread Ministries family.
Will you join us in praying for the ministry of the Soares family in Cabrobó? We also need to raise more funding to help with their support.