It is hard to believe that we are entering the final quarter of 2020. When the COVID-19 pandemic hit in the early spring, life as we know it ground to a halt. In the midst of self-isolating, time seemed to drag. However, as we approach October and life is slowly getting a little more normal, it seems like the year has escaped us.
With all of the impacts the pandemic has had on our daily lives, one of the most significant is economic. Many people have lost their jobs, and business owners have seen their sales and income plummet. These hardships do not happen in a vacuum. As individuals, businesses, and churches see their income drop, this ultimately translates to fewer donations for organizations like ours.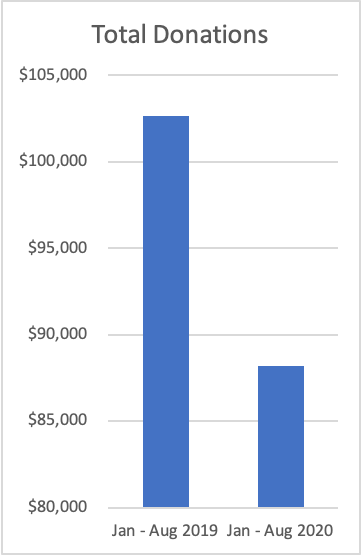 As you can see in the graph, our US giving this year is down by about $14,000. Our giving in Brazil is also down, and we are working to replace lost donors there as well. There are a variety of reasons for this, but much of it is related to the loss of regular partners due to the financial hardships of COVID-19. We made it through the first few months of the pandemic well, but as the pandemic and its economic impact has dragged on, we are experiencing the loss of some long term partners. Unfortunately, in some cases these were some of our larger monthly donors which are more difficult to replace.
If you are in a position to give, you can help us continue our mission by making a one-time donation or becoming a monthly partner. Every donation helps, but monthly partners are part of a long-term solution. We will need to replace this lost income in each upcoming year or adjust our ministries accordingly. Your monthly support helps replace this lost income and equips us to continue our work among the global poor into the future.