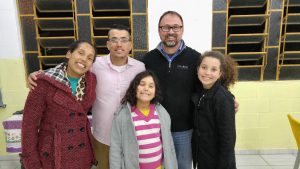 I (LBM Founder Patrick Hubbard) recently returned from Brazil where I spent time working with a group of our church planters and other leaders in southern Brazil. As part of our biannual training, I led sessions focused on equipping families to serve together, the importance of proclaiming and manifesting the gospel, and I shared some of the hurdles of church planting for our LBM Thailand family. We discussed ways our church planters in Brazil can benefit from what we are learning in Southeast Asia. I also preached several times during the week at various LBM church plants.
It was a good trip and I was reminded anew of how special our team is in Brazil. They serve sacrificially in very difficult situations; willingly placing themselves in dangerous environments for the sake of glory of Jesus. Though their income is insufficient, they still give generously from what they have to help their neighbors. Like the Apostle Paul, they are living examples of those who believe Christ is worthy:
Indeed I count everything as loss because of the surpassing worth of knowing Christ Jesus my Lord. For his sake I have suffered the loss of all things and count them as rubbish, in order that I may gain Christ…" Philippians 3:8
The most exciting part of the trip was the time we spent in Passo de Torres. This city is located in Santa Catarina, a state in which we have not previously ministered, which will be the location of our next church plant. Since November we have planted three new churches among the poor in Brazil, and this will be number four. This flurry of church planting activity is a tremendous blessing and incredibly exciting for all of us. However, it does not happen without cost. Would you prayerfully consider partnering with us as the Lord continues to open opportunities for our ministry in Brazil? Your investment changes lives and helps expand the kingdom of God among the poor and needy.