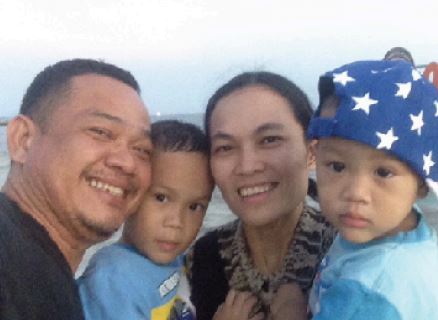 Huatanon Ministry, Thailand
Karom is 43 years old. He came from a family that did not have faith in Jesus. When he was 15 years old, his mom and dad separated, and he moved to Bangkok. Five years later, he was hired by a construction company in Singapore and worked there for 5 years. During that time he went to the English Program of the Thai Church in the neighborhood. He finally gave his life to the Lord after that and served God with the evangelism team of the church. After his contract with the company was over, he traveled back to Thailand. Later he worked for a Christian Publisher in Bangkok for 4 years.
Cat is 36 years old. She gave her life to Jesus 19 years ago. Cat learned about Jesus through Campus Crusade for Christ while she was studying in a university in Chiangrai. After she graduated she served God with CSP YWAM in Bureerum Province for 3 years.

Karom and Cat are now married, and together they have two sons.
They have their own business that sells soy milk and donuts at the
market. Karom and his wife, Cat, are the leaders of The Promise Church in Phanatnikhom and are living in the Huatanon Subdistrict. According to the vision of the Church, they have opened their home to do ministries and devoted themselves to plant a church in their community.

Karom and Cat hold on Philippians 1:6 as they live for God. "being confident of this, that he who began a good work in you will carry it on to completion until the day of Christ Jesus."

Thank God who assures them that he has set up the good example and will continue to lead them to the end. They are thankful that God has called them to be his servants. May glory be to God!