Phanatnikhom, Thailand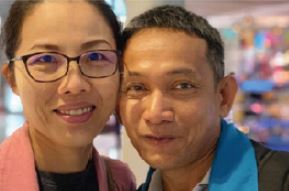 Somchai was born in a broken family. He first met his mom when he was 15 years old. In his early years of life, he lived with his grandmother, then grew up in a Buddhist temple. He was involved in a gang and had to run away from home. He met Jesus in Bangkok when he was 18 years old. Then God called him to attend the Phayao Bible College (North Thailand) when
he was 21 years old. By God's grace he found his wife and got married in year 1997 (26 years old). He furthered his Bachelor's degrees in Theology in Bangkok Bible College and pastored a church in Bangkok for about 5 years.

Phanatnikhom is Aun's hometown. When Aun was younger, she was scared of death and transgression so she was trying her best to do good and make merit. However, when she was a third year university student God revealed himself to her. She accepted Christ as her Savior in 1992 and has continued living in faith since then. She is an evangelist and she loves telling others about God and looking for opportunities to share the good news of Jesus wherever she goes. Aun found her Mr. Right in year 1997 and was so sure that God led her to marry him when she was 25 years old.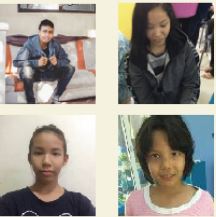 After 2 years God gave Somchai and Aun two beautiful children,
Samuel in year 2000 and Sai in year 2001. The Nakan Family served
the Lord at Satchatham Church in Bangkok for about 5 years. In 2004, God called the whole family back to Phanatnikhom after the resto-
ration of the church in Bangkok had finished. And God blessed them with 2 more children, Sarah (born in 2006 and Shalom born in 2010).

God prepared the perfect place for "The Promise Church" at the gate entering to Phanatnikhom town. Somchai and Aun began the church with 4 in the family! God has been so faithful, he has brought workers and the lost into his church. There were some people that came and went, but there are those who are still here and are walking in faith. After the seeking, God put in Somchai's heart the vision to spread the gospel to 20 sub-districts of Phanatnikhom (the population is 130,000 but less than 100 Christians and only 3 churches). Therefore, we pray for one church in each subdistrict and that the gospel is spread throughout every village.

At the moment there are about 70 people attending the church service on Sunday. Most of the church members are zealous and always experience God's presence in their lives, praise the Lord!! There are 2 cell groups during the week. Right now there are several leaders who can preach on Sunday. God has equipped them to be ready to branch out in their community as the vision He has put in us. We do have 2 teams in two different areas, Huatanon and Pantong. Both places are led by church members who have burdens to bring the lost back to God. They use the gifts
God has given to them faithfully to draw people to His Kingdom. We praise God that the church has its own radio station (FM 92 MHz). There are some church members who are broadcasters. It's also a great way to outreach in about 15 subdistricts.
In year 2011 Aun's mom has given them a piece of land, the land God has promised to us when He called us back to Phanatnikhom (Joshua 22). Eden Garden is the name for the land. We thank God for his provision that has always come in time. He is turning the dry low land to be a place where His name will be proclaimed. We now have facilities to provide the campers
that they may learn to listen to God's voice and be filled spiritually then go out and shine Jesus' love to the lost.

May God bless you abundantly! The Nakan Family 🙂