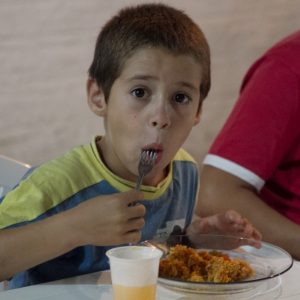 Lack of adequate food, education, and medicine combined with exploitation and a fallen worldview together trap families in a downward spiral of hopelessness. While these may seem to be overwhelming obstacles, we at Living Bread Ministries have a proven track record of helping the global poor.
Each church we plant employs a comprehensive ministry model, which seeks to address immediate physical needs as well spiritual and development needs. Many of our church plants operate a feeding ministry to meet these needs in their community. With support from generous donors like you, our church plants are able to distribute over 25 TONS of food annually. Since our heart is to see the local church flourish, we never come in and give out food kits as outsiders. Instead, the local body of believers is able to distribute kits to those in need and to build relationships with their neighbors.
We have witnessed beautiful testimonies of how these food kits have bridged the gap for struggling families, and even creative ways church members have discovered to serve those most vulnerable. In Brazil we hear stories of church members not only delivering kits, but also cooking for elderly neighbors or neglected children. When a Thai person becomes a Christian, they are often ostracized from their family, making fellowship with their church family especially vital. Being able to serve breakfast before Sunday School is also a big deal in the communities we serve. Many of the children attending have not had a decent meal all weekend.
Our feeding ministries also help to stimulate the local economy. LBM Founder, Patrick Hubbard, writes: "Every church we plant operates a feeding ministry of some type. The food we distribute is always purchased from local markets. Rather than potentially taking customers from these markets we are investing in local businesses by purchasing their food to serve in our feeding ministries. The people we serve are not spending much in these markets since they are going hungry, but our purchases bring resources into the larger community."
For a monthly commitment of less than $1 per day, you can help us provide resources to support local churches in meeting needs in their communities. Truly, one $10 food kit can be the difference between having enough food or going hungry. It allows our church plants to provide one family with supplemental food, which often is the only thing keeping them from eating from the garbage or resorting to illegal and immoral means of surviving. Before we teach the hungry and vulnerable about the love of Jesus, we want to demonstrate it by meeting this important need in their lives.