"Keep on loving one another as brothers and sisters. Do not forget to show hospitality to strangers, for by so doing some people have shown hospitality to angels without knowing it."  Hebrews 13:1-2, NIV.
 The LORD designed and created each of us in His image. Standing absent of skin covering no man or woman is identifiable by the differences or prejudices we've poured onto one another for thousands of years.
God is a God of the world, not the LORD of America. His offering of himself traces back to the Israelites in the OT. Time and again He's called His people to be a mouthpiece; the hands and feet of His will for all humanity—not just a handful.
Jesus came to us from heavenly richness, yet walked the ground as one who blended in with poverty. Homeless, marginalized, oppressed, and abandoned. He became what He wasn't so His people would become what they weren't. Jesus gives a command and an example in John 13:34-35. He says, "As He has loved us, we must love another and the world will know we are His disciples if we love one another."
The Greek word used in these verses is agape. This is the highest form of love; defined also as the highest form of charity. Agape embraces a universal, unconditional love that transcends and serves regardless of circumstances.
This is the message and foundation for the people of the cross. It's not a suggestion for the church, it's written and commanded. It's not contingent on our mood or safety nets. It isn't someone else's job or calling, we are all equipped and required to raise one another up.
Love and care doesn't come with conditions and borders. God calls us to be wise as serpents, yes, but He also tells us to be gentle as doves. He sends us out—we only need to ask Him, "Where should we go?" His will won't take us where His grace doesn't cover and protect us. The perfect love of God expels all fear.
In every aspect of our lives, we are all beggars trying to tell another beggar where to find food. Spiritual, literal, and emotional nutrition. To whom much is given, much is required.
How will they know Him if we don't pull out a seat at the table and offer what we have generously taken for ourselves?
Gracious God, you have been so kind and patient with us during our seasons of clenched fists. Everything that you've blessed us with is yours, not ours. Remind us through your Spirit every day to pour our lives out to you, out to others, as an offering. Teach us to joyfully release our resources, time, and monetary treasures so we can take our excess and use it to provide a hand-up to those who are waiting for us to come. Send us Lord. Give us eyes to see and ears to hear precisely where we should serve You and our sisters/brothers in need. We thank you for preparing a place for us. Turn our hearts outward to extend the same invitation to those who deserve knowing their worth in Christ. It is for your glory and Jesus' sacrifice we thank you and pray. Let it be. Amen.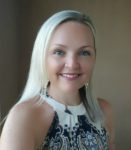 Jada is a Bible Teacher, Writer, Book Reviewer, and Christian blogger. She is a story & truth teller- writing for you like she'd talk to you face to face. She loves telling her family's miracle story, but even more, she loves telling the story of God because He wrote hers with mercy's pen. The loves of her life are: a husband who's her best friend, an amazing son away at college & a miracle daughter in elementary school. They all reside in the very humid & beautiful SW FL area. Connect with her on Instagram & Twitter: @jadaschiessl Or check out her blog: https://fearfullywonderfullymadeblog.wordpress.com/