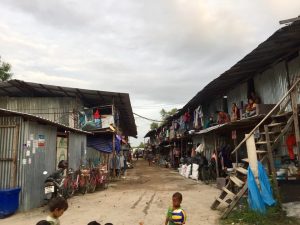 Thousands of Cambodian workers come to Thailand legally each year seeking work. These workers sign onto contracts with different companies for years at a time, most
working eight hour days, seven days a week
. They pay rent to live in work camp slums that provide electricity and water, and little else.
During the work day children are left behind in these camps, sometimes with only one adult serving the entire camp as a babysitter.
These people are at a
high risk for human trafficking
, as well as
disease
linked to poor health care and unsanitary conditions. All of the children and most of the adults are
illiterate
.
     We've been approached with the opportunity to plant a church among these Cambodian workers in Thailand. Our vision is to expand an interdependent church planting movement among the global poor. Our passion is for Christ to be glorified by the global church working together, each contributing what they can, to care for the poor and needy. Our mission is to plant churches among the global poor and equip them to care for their communities. We believe this opportunity checks all the boxes for us. But we can't move forward without your support.
     Could you commit to giving $25 per month toward this cause? That's less than a dollar per day. Or would you double that dollar and partner with us to give $50 per month? This is an exciting opportunity and we would love to have you join us as a financial and prayer partner for this good work God is beginning.