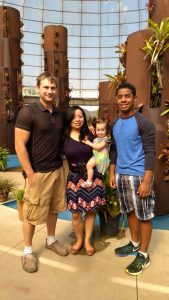 Leidiane is native of Cabrobó, Brazil and is the one who connected us with the community where our most recent church plants have begun. Here, she shares about how she was burdened to reach her hometown with the Gospel.
My name is Leidiane Million, and my story starts in Cabrobó PE, Brazil where I was born.
I grew up in extreme poverty. We lived in mud huts and barely had enough food to get by. Most of the people there have little to no education due to extreme poverty and having to choose between work and school. Thankfully by God's grace, he has delivered me from such poverty, and my family moved to the U.S. when I was six years old. Shortly after moving to the U.S., I was saved and baptized at First Baptist Church in Amherst, VA at around the age of nine.
But life was not easy because my family was very dysfunctional and because of that I was sent back to Brazil at the age of twelve. It was very difficult because I had completely forgotten the language and had to return to complete poverty.
So I was twelve years old, didn't know the language, was living in a 400 square foot mud hut home with nine other family members that I no longer knew besides my brother and sister. We lived with my aunt who was very poor, and she didn't have enough money to provide for all of us. She only
had enough money to buy groceries once a month, which would consist of one whole chicken, rice, beans, salt and pepper, just enough to barely get through the month.
During my time in Cabrobó I truly grew to love my family and I experienced God's love through them. For they had very little yet shared the little that they had with me. At a young age I met a guy, and we had my son named Alex. I was barely able to care for him. When Alex was seven months old, he almost died because of water pollution, and I had no money to buy him medicine. Because of that I made the difficult decision to go back to the U.S. without him so that I could get him citizenship to enter in the U.S. in hopes of giving him a better life. It took five years to save money and for immigration to go through before we were reunited. Not too long after coming back from Brazil, God blessed me with my husband of seven years, and we now have a daughter and another on the way.
Through the years God has helped me not to forget my family and the people of Cabrobó. He has placed a great burden on my heart to start a church to help them not only with their physical needs, but also with their spiritual needs. There are churches in Cabrobó, but the problem is that they preach that salvation is by works and not by God's grace and only through his son Jesus Christ. They are very legalistic, and each church has their own rules you have to go by. It breaks my heart that they do not know or understand what salvation truly means, and they go through life desperately trying to earn salvation.
For six years, I tried everything in my power to get help to start this church that God has placed on my heart. There were many obstacles along the way; the main one was not having a pastor. On our trip to Brazil in 2017 my husband, and I did a community event at a public school with the help of family and friends to help people with their physical needs and share the gospel.
A night before we were leaving to go back home a gentleman named, Daniel Soares came to us and said he had heard about the event and that we were looking for a pastor and felt God was calling him to be the pastor for the church we wanted to start. The blessings didn't end there. I contacted Pastor Magioli who helps plant churches in Brazil through Living Bread Ministries. I told him that we had found a pastor and asked him if he would help us. Thankfully we shared the same burden, and he gladly helped us! God answered my prayers and today Daniel Soares has been our pastor since November of 2017.
God has revealed to me that we cannot do this on our own. There is strength in numbers, and we need the help and support of other people like you. Would you prayerfully consider joining us in prayer for our church and helping us financially? Here are some things you can pray for: that the needs of our pastor and church would be met monthly and for wisdom and strength for our pastor to continue ministering to the people in Cabrobó.