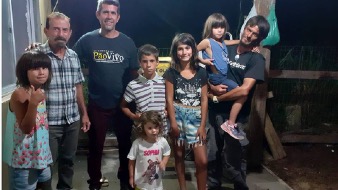 A single dad and his five children make up a family in the Passo de Torres community where we have a church plant. The children, all under 13, help their father run the home, work his fishing and fish net business, and care for each other.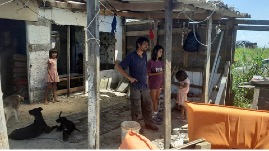 As Pastor Gilmar and members of his church have ministered to the family and built closer relationships with them over recent years, they have had more and more opportunities to see their home and the conditions in which they lived. Heartbroken for the shabby and unfinished state of the house, the church members brought it upon themselves to do something about it. They rallied other people and businesses to raise money to fix up the home. They also gathered donations for some furnishings like bedding and household items.
The community of believers in Passo de Torres volunteered their time and energy, working alongside the dad of the family and some professionals as needed, to remodel their home to a much more livable state. Now the family has solid floors, a roof over their heads, fresh paint, functional appliances, and a much more livable space. What a joy to see the body of Christ band together to help their neighbors in need and share God's love in such a tangible way. Seeing the church being the church without outside influence from us is exactly why we do what we do here at Living Bread. (See the pictures below. What a transformation!)

If you would like to support the work in Passo de Torres, you can do so here and designate your donation in the comments. Thank you for your partnership!